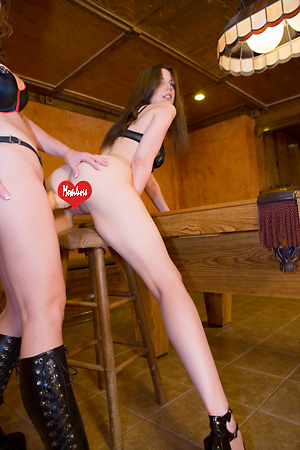 I was wearing one of those dorky short plaid school uniforms with a white button up shirt. It was really hot day so I recall pulling my skirt way up while I was sitting there chatting with him. We started getting flirty with each other and I caught him looking down at my skirt several times. A few minutes later I notice he started getting hard, it was kinda hard to hide in a pair of cotton shorts, LOL.
I really didn't know how far this was going to go... the next thing I know Rick is coming around the bar to where I was sitting on the stool. He stood right next to me telling me how pretty my eyes and hair was while pressing his hard cock against my leg.
I started getting butterflies in my stomach because I could sense he was getting turned on by our little flirtting session.I started thinking to myself...could this really happen? What's it going to feel like? Will it hurt? What if my parents found out? What if his wife comes home?
I couldn't resist, I was so nervous but I wanted to know what cock would feel like, I reached down and started rubbing his cock through his cotton shorts. Man, that thing felt HUGE.... I later learned he was much bigger than average but I didn't know it then. He started kissing me on my neck then we started to french kiss. I slid my hand inside his shorts and he slid his hand up my skirt. He slid my panties to the side and started rubbing his finger up and down my clit. I was stroking his cock and I could feel pre-cum dripping off the end.
After about 2 or 3 minutes of heavy kissing we moved over to the couch. He picked me up and carried me there and laid me on my back. He slid my panties off then proceeded to lick my pussy. Oh my god, I was so turned on with the anticipation of him fucking me. I had played with myself before but I never felt anything like this. I squirmed and held his head tightly pulling his face into my pussy as hard as I could. I think I came a few times and then he placed his cock in my mouth. I sucked on his cock for about two or three minutes, it was kinda hard for me to do becasue I could barely fit it in my mouth.
Here it comes, nobody ever forgets the first time they had sex and I remember this in vivid detail. He pulled me to the edge of the couch. I asked him if had a rubber because I was worried about getting pregnant but he promised not to cum in me (I didn't know, I was young). He gently worked the head up and down my soaked clit and started pushing it in a little at a time. It was weird because it hurt and felt good at the same time. After about 10 minutes of trying, the head of his cock finally penetrated my extremely tight pussy. He started taking short strokes, well it didn't take long before he started groaning and I started feeling him cum in me... I couldn't believe it, I was a little pissed and scared that he came in me after he promised he wouldn't.
He left his cock in me for a minute or more until it finally started to go limp and fell out of my pussy, his cum oozing from my cunt dripping down the crack of my ass. We made a mes on his couch and I thought it was going to funny how he would explain that to Maggy... kinda revenge for him cumming in me.
After that day I babysitted a for them a few more times. Nothing ever happened because there was never really an opportunity. I never really saw Rick to much after that, I got the feeling he was avoiding me, or maybe he was ashamed... I don't know?